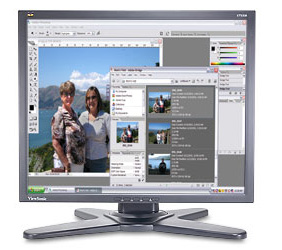 Size (inches): 19
Resolution (pixels): 1280 by 1024
Contrast Ratio: 1000:1
Adjustments: Multiple adjustments
Weight (pounds): 15
Interfaces: Analog and digital
Price When Reviewed: $500
The VP930b looks like much like a standard two-footed ViewSonic model--but wearing different shoes. Two new, small projections extend backwards from the original feet, giving the entire stand an uneven X shape. You feel the added stability when you give the physical adjustments--tilt, height, swivel, and pivot--a whirl. This thin-bezeled model adjusts easily, and changes stay put nicely.
At default screen settings, the VP930b threw a pinkish or orangey cast onto most screens. This, and the slightly spidery text, led to respectable but average image quality ratings from our jury. In a subsequent hands-on evaluation, I discovered several color presets in the on-screen display; simply choosing a cooler screen mode solved the problems.
Better yet, the VP930b includes a CD with PerfectSuite, ViewSonic's branded version of Portrait Displays's Display Tune screen adjustment software. With PerfectSuite's tests and wizard, you painlessly calibrate the monitor to your tastes and environment. PerfectSuite includes some of the more unusual Display Tune settings, such as automatic screen pivot, which saves time and fuss for anyone who frequently pivots a monitor from landscape to portrait.
The theft deterrence plug-in, which arrives on CD, renders the monitor nonfunctional if someone disconnects it from the original PC and fails to enter the user-selected password. This may be better for preventing migration of LCDs between offices than for deterring burglars. (And it's odd that the software starts this process when you check a box labeled "enable theft.") If this function interests you, but the VP930b's $500 price tag seems high for your office, look for it on recent Hyundai ImageQuest models as well, such as the $390 Q90U.
Upshot: With a full range of physical adjustments and excellent screen adjustment software, it's a simple matter to get the ViewSonic VP 930b exactly the way you need it.
Features:
Screen Specs
Size (inches)
19
Resolution (pixels)
1280 by 1024
Maximum Brightness (candelas per square meter)
250
Contrast Ratio
1000:1
Horizontal View Angle (degrees)
170
Vertical View Angle (degrees)
170
Antiglare
Yes
Pixel Response Time (milliseconds)
8
Type of Pixel Response Time
Gray-to-gray
Panel Manufacturer
AUO
Can Factory Default Settings Be Reset?
Yes
Pixel Pitch (mm)
0.29
Physical Adjustments
Tilt
Yes
Height
Yes
Pivot
Yes
Swivel
Yes
Adjustments
Multiple adjustments
Dimensions
Depth (inches)
11.4
Height (inches)
14
Width (inches)
16.2
Weight (pounds)
15
Other Features
Cabinet Colors
Black
Headphone Jack
No
Speaker Type
No
Energy and Ergonomic Standards Met
TCO'99
Maximum Power Consumption
38
Standby/Sleep Power Consumption
1
Downstream USB ports
0
Upstream USB ports
0
Cable Card Ready
No
TV Tuner
No
Inputs
Composite
No
Primary Color Controls
Yes
HDTV Tuner
No
Interfaces
Analog and digital
VGA
Yes
DVI
Yes
S-Video
No
HDMI
No
Component
No
Included Hardware
Power cord, signal cable, (D-Sub), DVI-D cable
Included Software
PerfectSuite LCD Control Software, ViewSonic Wizard CD