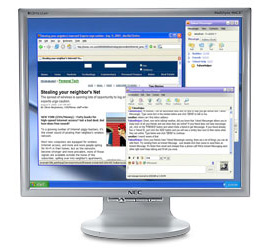 Size (inches): 19
Resolution (pixels): 1280 by 1024
Contrast Ratio: 700:1
Adjustments: Tilt and swivel adjustments
Weight (pounds): 14.3
Interfaces: Analog and digital
NEC's MultiSync 90GX2 bears a strong family resemblance to the successful LCD1970GX. Like that model, the 90GX2 employs a nice-looking glossy screen and the clever NaViKey screen control button.
Glossy-screen monitors have a reputation for showing clear detail and vibrant color. On PC World's text tests, the 90GX2's OptiClear screen did particularly well with the challenges of reverse type and gray text in our multi-sized font and Microsoft Word test screens. Our jurors gave it very high marks for graphics, too, especially with the fine detail and color nuances of our photo test screens of a group portrait and a fruit tart. That said, one juror found the screen reflection distracting; it's a good idea to make sure you like glossy screens before you buy a monitor that uses one.
The 90GX2 improves on its predecessor's looks and maintains the same useful design elements. The silvery bezel dresses up a dull gray cabinet, and the more rounded lines of the 90GX2 make a welcome change from the hard edges of the LCD1970GX. More important, digital photographers and other USB-hungry users will like having two USB 2.0 ports on the left side of the bezel and another two stowed in the back of the cabinet. The 90GX2 comes with NaViKey, an eraserhead-like button that's much more comfortable than buttons for scrolling up and down the colorful screen-adjustment menus. NEC doesn't include its NaViSet screen adjustment software on CD, but does offer it for download from a Web site.
The 90GX2 claims a 4-millisecond response time. In theory, screens with lower response times deliver smoother movement with less motion artifacting. However, our real-world motion tests detected no discernible difference in motion quality between the 90GX2 and products with an 8ms or even 12ms response time.
Upshot: The glossy-screened NEC 90GX2 shows crisp text, and its eraserhead-like NaViKey makes scrolling through screen menus a breeze.
Features:
Screen Specs
Size (inches)
19
Resolution (pixels)
1280 by 1024
Maximum Brightness (candelas per square meter)
400
Contrast Ratio
700:1
Horizontal View Angle (degrees)
170
Vertical View Angle (degrees)
155
Antiglare
No
Pixel Response Time (milliseconds)
4
Type of Pixel Response Time
Gray-to-gray
Panel Manufacturer
Twisted nematic
Can Factory Default Settings Be Reset?
Yes
Pixel Pitch (mm)
0.29
Physical Adjustments
Tilt
Yes
Height
No
Pivot
No
Swivel
Yes
Adjustments
Tilt and swivel adjustments
Dimensions
Depth (inches)
8
Height (inches)
16
Width (inches)
16.2
Weight (pounds)
14.3
Other Features
Cabinet Colors
Black, silver-white
Headphone Jack
No
Speaker Type
None
Energy and Ergonomic Standards Met
None
Maximum Power Consumption
52
Standby/Sleep Power Consumption
10
Downstream USB ports
4
Upstream USB ports
1
Cable Card Ready
No
TV Tuner
No
Inputs
Composite
No
Primary Color Controls
Yes
HDTV Tuner
No
Interfaces
Analog and digital
VGA
Yes
DVI
Yes
S-Video
No
HDMI
No
Component
No
Included Hardware
USB cable, VGA cable, DVI-D cable
Included Software
None