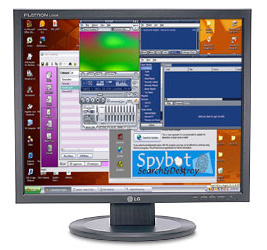 Size (inches): 19
Resolution (pixels): 1280 by 1024
Contrast Ratio: 700:1
Adjustments: Multiple adjustments
Weight (pounds): 13.7
Interfaces: Analog and digital
The modest-looking LG Electronics Flatron L1950B handles common text chores neatly. All type sizes looked clear and legible on our Microsoft Word and Excel test screens. More than that, the L1950B excelled at the challenging task of making gray reverse text stand out against black--an undertaking that trips up many monitors. For someone who works mostly in e-mail or word processing, the L1950B is a good deal at $369.
Graphics were less impressive in our tests, however. In particular, our screens of photographs and a Web page looked overexposed in the normal mode (the default f-Engine screen mode); graphics seemed more accurately rendered in the movie mode. You can tweak the screen by selecting the user mode, of course, and you can guess what the text mode is best for.
The L1950B looks unassuming, but it works well. The thin black bezel won't distract from the images on the screen. Cable clips keep cords out of the way, and a smooth height adjustment makes it simple to set the screen at a comfortable elevation. Concentric circles add a dash of visual interest to the round stand, which sits atop a lazy-Susan swivel mechanism.
Upshot: Low price, crisp text, and an easy-to-work height adjustment make the LG Electronics Flatron L1950B a solid choice for general use.
Features:
Screen Specs
Size (inches)
19
Resolution (pixels)
1280 by 1024
Maximum Brightness (candelas per square meter)
300
Contrast Ratio
700:1
Horizontal View Angle (degrees)
170
Vertical View Angle (degrees)
170
Antiglare
Yes
Pixel Response Time (milliseconds)
8
Type of Pixel Response Time
Gray-to-gray
Panel Manufacturer
LG
Can Factory Default Settings Be Reset?
Yes
Pixel Pitch (mm)
0.29
Physical Adjustments
Tilt
Yes
Height
Yes
Pivot
No
Swivel
Yes
Adjustments
Multiple adjustments
Dimensions
Depth (inches)
9.1
Height (inches)
18.4
Width (inches)
16.3
Weight (pounds)
13.7
Other Features
Cabinet Colors
Black
Headphone Jack
No
Speaker Type
None
Energy and Ergonomic Standards Met
TCO'03
Maximum Power Consumption
43
Standby/Sleep Power Consumption
1
Downstream USB ports
0
Upstream USB ports
0
Cable Card Ready
No
TV Tuner
No
Inputs
Composite
No
Primary Color Controls
Yes
HDTV Tuner
No
Interfaces
Analog and digital
VGA
Yes
DVI
Yes
S-Video
No
HDMI
No
Component
No
Included Hardware
Power cord, signal cable, (D-Sub), DVI-D cable