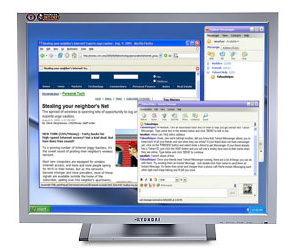 Size (inches): 19
Resolution (pixels): 1280 by 1024
Contrast Ratio: 700:1
Adjustments: Tilt adjustment only
Weight (pounds): 11.9
Interfaces: Analog and digital
The Hyundai ImageQuest Q90U provides features and image quality that you'd expect from a more expensive monitor--but it's not expensive at all. Priced under $400, this model is a great value.
Overall, the Q90U posted high scores for screen quality. Our jurors especially liked its color balance on our photo test screens of a group portrait and a fruit tart. It performed well on the small letters in our Microsoft Excel text screen, too. Its only weak score occurred on grayscale text, where the Q90U had trouble making dark patches stand out against a dark background.
The Q90U's features rise far above the expected for a budget monitor. It ships with ImageTune, Hyundai ImageQuest's branded version of Portrait Displays's Display Tune screen adjustment software. In addition to the usual wizards and test screens for fine-tuning brightness, contrast, and color, the Q90U's version includes a theft deterrent plug-in. This preinstalled plug-in lets you password-protect the monitor so that it won't work if it's removed from your PC and set up elsewhere by someone who doesn't enter the password. A sticker on the monitor describes the function; whether it's as effective as a burglar alarm sign remains to be seen. I suspect it's most useful for preventing departmental infighting by keeping monitors in the offices or rooms they start in.
Adjusting the tilt and height functions takes a little more muscle than it should, but having any height adjustment at all is a big plus for anyone with ergonomic concerns. The Q90U sports two USB 2.0 ports, both easily accessible on the right side of the stand. It also includes passably good speakers--not the best for constant listening, but adequate for computer prompts and the occasional media snippet.
In theory, screens with low response times deliver smooth movement and little motion artifacting. However, our real-world tests detected no discernible difference between the motion quality of the Q90U, with its very fast stated response time of 3 milliseconds, and other recent monitors with slower response-time specs.
Upshot: The Hyundai ImageQuest Q90U offers good screen quality and features that are unexpected at its low price.
Features:
Screen Specs
Size (inches)
19
Resolution (pixels)
1280 by 1024
Maximum Brightness (candelas per square meter)
300
Contrast Ratio
700:1
Horizontal View Angle (degrees)
150
Vertical View Angle (degrees)
135
Antiglare
Yes
Pixel Response Time (milliseconds)
3
Type of Pixel Response Time
Gray-to-gray
Panel Manufacturer
Twisted nematic
Can Factory Default Settings Be Reset?
Yes
Pixel Pitch (mm)
0.29
Physical Adjustments
Tilt
Yes
Height
No
Pivot
No
Swivel
No
Adjustments
Tilt adjustment only
Dimensions
Depth (inches)
6.77
Height (inches)
16.67
Width (inches)
16.3
Weight (pounds)
11.9
Other Features
Cabinet Colors
silver, black
Headphone Jack
Yes
Speaker Type
Yes
Energy and Ergonomic Standards Met
TCO'99
Maximum Power Consumption
35
Standby/Sleep Power Consumption
2
Downstream USB ports
2
Upstream USB ports
1
Cable Card Ready
No
TV Tuner
No
Inputs
Composite
No
Primary Color Controls
Yes
HDTV Tuner
No
Interfaces
Analog and digital
VGA
Yes
DVI
Yes
S-Video
No
HDMI
No
Component
No
Included Hardware
D-Sub video cable, DVI cable
Included Software
ImageTune